Communications
Posted: April 8th, 2022
Richmond Hill Church Helps Ukraine One Pierogi at a Time

Website Admin
The Website Administrator
it@adventistontario.org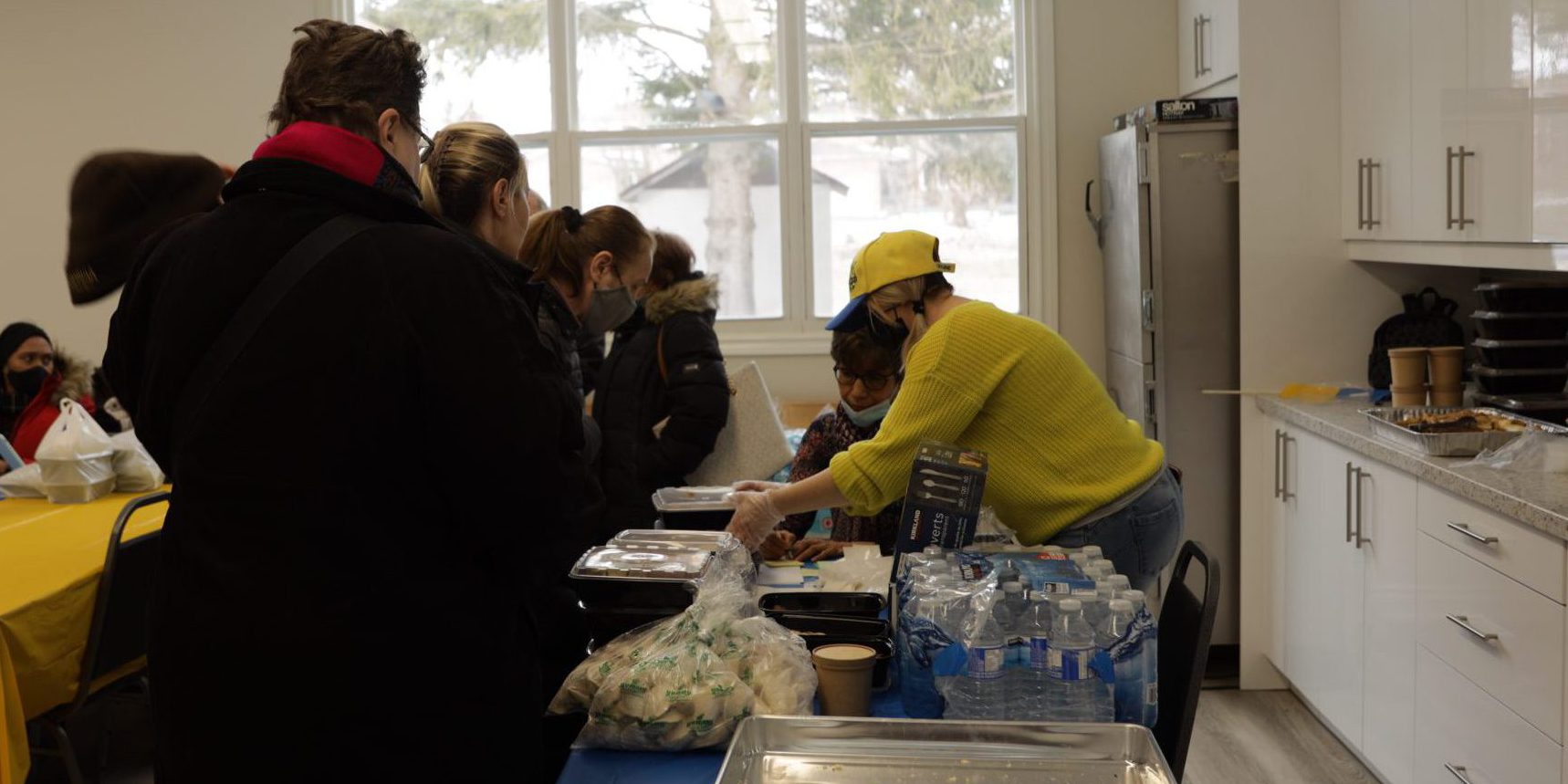 I am only one, but I am one. I cannot do everything, but I can do something. And I will not let what I cannot do interfere with what I can do.

Edward Everett Hale
"What can we do?"
As the Russia-Ukraine war started on February 24 raged on, Ukrainian Elita Carrasco, whose parents are Richmond Hill Church members, was struck with inspiration. Why not host a fundraiser there selling the foods she grew up with—delicious, homemade Ukrainian pierogis, cabbage rolls, borscht and blintzes ?
With the support of Richmond Hill Church leaders and pastor (Todor Levterov), she moved into action. Her parents, Nelya and Yuri Tsilo, grandparents, Pastor Fedir and Olga Popovitch, Helen Fydyshyn-Mair and her husband, Ken, the Levterov family and church leaders helped with pre-event preparation and/or selling the day of. Notably, it took Nelya and Olga a week to create the dishes from scratch. "My hands are pierogis!" Olga joked later.
Sunday afternoon, March 27, Richmond Hill's fellowship room was bustling with visitors. Most were members from GTA churches, including Richmond Hill, Immanuel, Portuguese, Toronto Spanish and Toronto Slavic International. They'd glimpsed Elita's promotional flyer on social media or heard of the event through word-of-mouth.
"Human billboards" Pastor Levterov and Yuri Tsilo attracted mostly fist bumps, thumbs up, honks and waves, but a few cars also drove in to check things out.
As the fundraiser wound down, Elita reported, "There was a great turnout. We cooked for about 100 people, and there was no food left!"
Furthermore, the day elicited a sense of goodwill and hope despite the serious circumstances.
Odalis Rodriguez (Toronto Spanish Church) heard about the initiative from Elita, who is married to her husband's nephew. She stated, "We wanted to support her as a family and a sister in Christ. I appreciate this solidarity, seeing that it doesn't matter where you are from. You care that you have brothers and sisters suffering from this invasion."
She was accompanied by other Toronto Spanish members, including Pastor David Manrique. In between reporting on the event on Facebook Live, he said, "I think we can do something like this in Toronto Spanish Church. It's better when we join together to do something for others."
"We're grateful that there's so much support when it is most needed. It was incredibly heartwarming to see the solidarity with the Ukrainian people," Elita noted.
She later wrote, on her social media, "A huge thank you to everyone who made this fundraiser possible. For the hours and hours of preparation that went into it. We have seen God's blessings in return."
Legacy of Service to Ukrainian Community
For Elita's grandfather, Pastor Feodir Popovich, the day was especially significant. In 1993, when he came to Ontario as a visitor, a small group of Ukrainians was meeting in a room in Willowdale Church. As their 93-year-old pastor needed relief, they frequently asked Pastor Popovich to preach. Church members were shocked to learn his visa was expiring, and he would have to return to his church in Ukraine. So they went to the Ontario Conference office to request that he stay.
At the same time, the pastor serving as Secretary of the Union of the Ukrainian Seventh-day Adventist Church was visiting Alberta. Pastor Popovich said, "My supervisor is here. You can ask him. If he approves, then I can stay." When the secretary later visited the Ukrainian congregation in Toronto, all the members asked for Popovich to remain and serve as their pastor. The secretary discussed this proposition with the Ontario Conference's leadership, then asked him to stay. His paperwork was transferred through the General Conference, and the rest is history.
He served a fruitful 16 years as the Ukrainian Church pastor. Under his leadership, the congregation established an actual church with their own building at 900 Sheppard Avenue West, where it remains. It was also renamed the Toronto Slavic International Church, encompassing members from Russia, Ukraine and other countries of the former USSR.
Popovich said, reflecting on the fundraiser, "There are many displaced people, refugees in the country, who are left without a place to live, without necessities, without anything. Our financial support will be really helpful there."
"We're very happy with [today's] outcome," he concluded, smiling broadly.
Where to donate:
If you couldn't come to the event, but would still like to donate, you may send an email transfer to gta.donate.ua@gmail.com.
i. Beet soup
ii. Stuffed, crepe-like pancakes